Protecting the Preborn
Dowling students head to D.C.
All human rights begin with one thing: the right to life. If that right is violated, all of our other rights are at risk. This year, thousands of people went to D.C. to fight for life. The March for Life is the world's largest pro-life event in the world. It was started by Nellie Gray in 1974, and has been held annually since. This year, a group of Dowling students attended the march to fight for the unborn.
Danny Pierick ('24) is one of the students who went to the March for Life this year. This was Pierick's 2nd time attending the march. He wanted to go to the march because he realizes the importance of taking action, especially for those who can't speak for themselves. "It's my mission as a Catholic to do so," says Pierick.
One of his favorite speakers was Jonathan Roumie, who plays Jesus in The Chosen. "He just talked about how we see a lot of evil in the world and we have to make sure we stand up against that, even if it doesn't seem like there's anyone standing up with you," says Pierick. 
Pierick also enjoyed listening to Tony Dungy, a former NFL coach. He talked about how his players prayed before each game and how Christianity brought the team together. 
For Pierick, it was very powerful to see thousands of people walking down the streets with a common goal. "It just makes you feel good, you know you're doing the right thing," says Pierick. 
Oftentimes, pro-lifers feel like everyone is against them. That's why the March for Life is so important. Everyone is there with the same purpose. "When you see this many people in one place all fighting for the same thing, I think it's really good," says Pierick.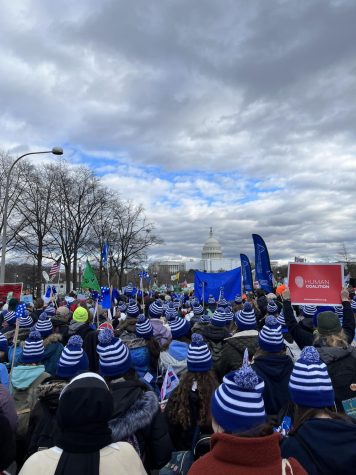 Rachel Talley ('25) also went to D.C. this year. This was her second time at the march. She went with her sister, Josie, who goes to Creighton. "I wanted to attend the march because I am fighting for the most vulnerable people, the preborn," says Talley. 
One of her favorite speakers was St. Gianna's daughter. St. Gianna Beretta Molla died in 1962, a week after giving birth to her fourth child. She was told to abort her child because she could die during childbirth. However, she refused to get an abortion. She is the patron saint of mothers, physicians, and the unborn. Her daughter, who is alive and well today, is so grateful for her mother's sacrifice because it gave her a chance to live. 
Rachel had an amazing experience at the march. "Marching made me feel like I was making a difference in the world for standing up for something I strongly believe in," says Talley.
This experience made her realize that she is not standing alone. In fact, there were a lot of other young people there. "We were once again proving how the Pro-Life movement isn't all old white men," says Talley.