A Humble Hero
Nick Kuhn is an entrepreneur in Iowa, owning 3 restaurants: The Hall, The Beerhouse, and The Clubhouse, as well as taking over food and beverage at Lake Panorama National Golf Course 2 months from now. The cool thing about his restaurants? 100% of food sales go directly towards their nonprofit, the Justice League of Food (JLF).
It all started with Kuhn's first restaurant business, The Beerhouse in Urbandale, established in 2015. That year, Kuhn became president of the local Food Truck Association, the Legion of Food. At that time, food trucks were illegal in Des Moines, so part of Kuhn's job was to throw a big party for 12,000 people, to convince the city that food trucks were profitable and positive. "To help us with the party, I went down to Central Iowa Shelter Services, which is the main homeless shelter. I hired 10 people from that shelter to help us with that event. We thought it would be helpful if we gave them a job. But to be honest, we just needed help. It takes a lot of people to manage 12,000 people," Kuhn explains. The party did its job, as we see in our city today, but a few minutes after he collected his money, one of the hired homeless men told Kuhn he had lost part of his pay and asked him to replace it. "I told him I did not believe him," Kuhn says, "but I gave him the $20."
Letting the scene slip his mind, Kuhn went back to his regular life. 3 weeks later, he took four food trucks down to the main shelter and was giving away lunch to everybody there. Kuhn was standing outside, overseeing, when someone tapped him on the shoulder. It was Bill. "I remembered him and so I said, 'Hi Bill, how are you?'" Kuhn says. "And Bill said, 'Mr. Kuhn, Mr. Kuhn, I'm so glad that I found you.'" After asking Bill if he needed something, Kuhn was told a heartful piece of information. "He says, 'Well, you remember that $20 that I lost that night? Somebody saw me drop it and they picked it up and gave it to me before I left,'" Kuhn remembers, "I'm like, 'Bill, that's wonderful. There are still good people in the world.' And he reached into his pocket, grabbed a $20 bill, and says, 'I've been carrying this around for three weeks, hoping I would find you.' Then he offered to give me the $20 back." This kind, simple, and honest gesture, prodded Kuhn and his wife to start feeding the homeless. "This is a homeless man! And I told him, I said, 'Bill, thank you, but no, that's yours, you keep that.'" Kuhn says. When he got home that night, struck by one encounter with a homeless man, he decided he was going to do something to give back to his community.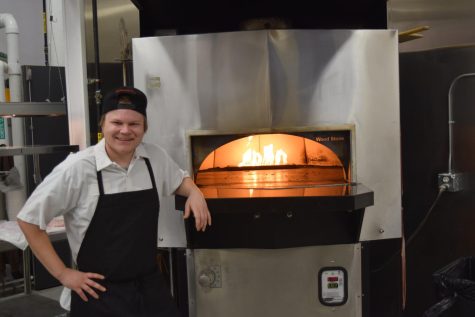 For a while, the Kuhn family fed the homeless with food trucks, but after a year, they realized there was a problem. "We were helping by feeding people, but after a year of it, we were seeing the same people over and over and over again," Kuhn says. After coming to this realization, Kuhn realized he needed to do something else. That's when the Justice League of Food was created. "If you take a step back, when we were feeding people, you know, we were feeding a man a fish. And then we decided that a better approach would be to teach a man to fish," Kuhn explains.
It started with their kitchen in their Valley Junction restaurant, The Hall. "We have a really big kitchen, and the purpose of that kitchen is that we work with homeless and at-risk people in the community, through local shelters, foster care programs, and the state of Iowa," Kuhn says. The idea of the big kitchen was not only to teach the homeless to make their own food and how to cook but also how to become great employees. They offer full-time apprenticeships for 2 years. The students are taught how to be professional cooks, while also being taught the life skills they need in order to succeed. "We help them on how to manage their finances and how to get their driver's license, because a lot of times, they don't know," Kuhn says. "Then at the end of the program, we buy them clothes, we teach them how to interview, and we get them connected with other great restaurant businesses so they can get a job."
A year ago, they had three graduates. One, Michael Niemeyer, is employed full-time by The Hall. "He was homeless when he came to us and now he owns his own house, he has a full-time job, and he's doing great," Kuhn says proudly. "All three of them are doing great. You know, they're happy because they're not homeless anymore, they're doing great things that normal people do. They're never late, they do a great job, and they're happy because we taught them how to get out of their situation and stay out of it. And that's a big deal since people who are homeless tend to stay homeless because I don't think anyone ever takes the time to teach them how not to be."
Additionally, they are like a "Meals on Wheels" kitchen here in Polk county. Every Monday, Wednesday, and Friday, they make a bunch of meals and take them to two community centers. "The way it works is, if you cannot afford to feed yourself or your family, then you can go to a community center and just sit down and feed yourself and your family. We currently feed about 2,100 people a month," Kuhn says. These meals are called The Community Meals Program, which is part of Hunger Free Polk County and the JLF makes them in the big kitchen at The Hall.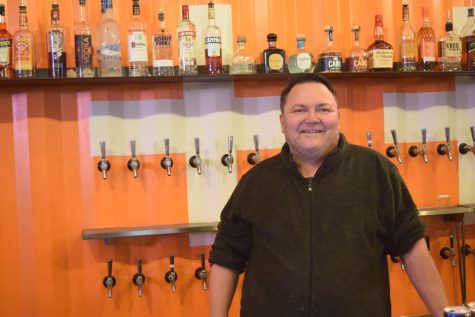 Kuhn's entrepreneurial ways also carry into his home life. His wife, Lynn Kuhn, owns a landscape architecture consulting business called Outdoor Transformations. She is also involved in the daily operations and struggles it takes to run the JLF as well as brand management and event planning. Their three sons, Marshall, Brady, and Owen, are also a part of the day-to-day. Marshall and Brady are Dowling graduates and Owen is a current freshman. Their oldest, Marshall, is a full-time welder as well as bartending two days a week at The Hall. Brady, their middle child, is currently a full-time student at Iowa State, working towards his electrical engineering degree, but when he comes to visit, he helps out wherever he can, either bartending or working as an expeditor. Owen, their youngest, does everything from working as an expeditor to cooking. "He likes being in the kitchen, cooking with the guys. He's 15 and that kid can cook with the best of them," Kuhn boasts.
On a part-time basis, the entire family helps with all the businesses and they volunteer to help with the nonprofit work. "It's kind of a family business, but not really. They help when they need something to do, and they always have a job with us if they want, but we don't ever want them working for us full-time. It's a hard business and we want them to make their own decisions as to what they want to do and then go and do it. If they decide they want to work for us they can, but we've never encouraged it," Kuhn says. "They're their own people. They have their own dreams and goals, and we want them to pursue those dreams and goals without our businesses getting in the way." 
Even during COVID-19, the Kuhn family was helping out. "We set up an online grocery program so people could buy things that they couldn't get, like toilet paper," Kuhn says. "Our neighbors were making sanitizers, so we would give that away. We could get the things that the average person couldn't get, toilet paper, sanitizer, chicken, beef." Because of their restaurants, they could get the products for less and sell them at a relatively cheaper price than what the grocery store had them at. "We do try to help as many people as we can in our community and we use our businesses to do that," Kuhn explains.
"Our motto is, 'We can do good things in the world, have fun, and make money all at the same time.' That's our whole belief and do good things is number one, but think about it, if it isn't fun, you're not going to want to do it, and if you can't make any money to support it, then you can't afford to do it," Kuhn says. "So when you break it down, you really need all three of those things." 
These restaurants are more than what meets the eye, working with the homeless, training great employees, and feeding the hungry. If interested in volunteering at the JLF in any way, (including getting those service hours that are desperately needed), reach out to Beth Rydberg at [email protected]!