This year, Dowling Catholic put on their annual spring musical. Guys and Dolls, a 1955 romantic comedy, is set in Manhattan.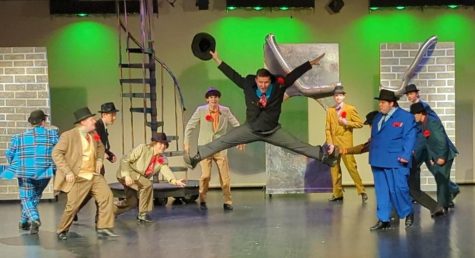 Fr. Reed Flood made an appearance in the spring musical this year. He got to come in for one scene of Guys and Dolls and dance with all of the students. He was thrilled when Mr. Sheaff offered him a role, and was so glad to come back. "I've always been super grateful for the Dowling musical experience, and this is really cool to give back," says Flood. When asked if this will become an annual thing, Fr Flood replied, "Stay tuned."
This musical was Fr. Flood's 5th musical he has participated in at Dowling. He was a wrestling coach in the musical Footloose, and he accidentally forgot one of his lines. He made a homily out of this experience. Even if we mess up, God is with us and will put us back on the right track. "He is the master improviser," says Flood.
He played 3 roles in Beauty and the Beast, one of them being a dancing knife. "We sold out every single show," says Flood. He also participated in Wonderful Town and Damn Yankees. All of these were amazing experiences for him because he made life-long friends through the musical.
His senior year was very special because his group of friends all went out for the musical. This is where he met his college roommate, Eric, who passed away during his sophomore year of college. "I wouldn't have gotten to know him if it wasn't for the Dowling musical," says Flood. The musical is a good way for him to remember his dear friend, and the choir loft is named after Eric.
The first day he showed up to the musical practice, it was a little bit awkward. However, as time passed, he got to know the students better. "I was so blessed to see how that grew and developed throughout the time in the musical," says Flood. He attended 8 practices, including one 6 hour Sunday practice. He enjoyed praying with the students before the show, and he has so much respect for them.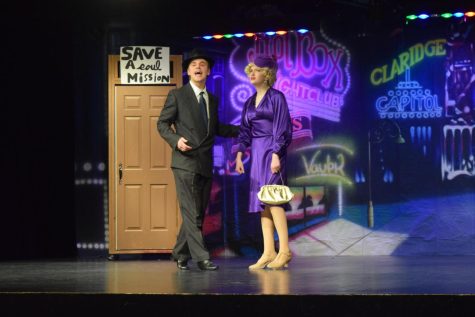 Elizabeth James ('25) also participated in the spring musical. She played Ms. Adelaide, one of the female lead characters. She started dancing when she was 3 years old, and learned how to use her voice through school choir. "Since then I've been taking classes and voice lessons, as well as getting involved with performance programs around Des Moines," says James.
She put in 2 months of hard work to prepare for this musical. Before each show, Mr. Sheaff gave the cast a big speech, and closed in prayer. "The whole cast stood in a circle and listened to the pep-talks as anticipation built," says James.
James' favorite part of the show was getting to know people that she wouldn't have met otherwise. She also really enjoyed building her character. "I used Blooket to learn my lines and based my character off of a family member. It felt less like putting on a façade, and more like I was getting to know a new friend," says James. 
Overall, the musical was a success and continues to bring visitors to Dowling. It is an opportunity for students to show off their talents and to grow closer with each other.