Did you know that 47 children are diagnosed each day with cancer in the US and 1 in 285 children will receive a cancer diagnosis before their 20th birthday? Well, some families at Dowling did. Being personally affected by childhood cancer in their homes, the Foth and Gonyo families captained the process of advocating for childhood cancer in our school community.
Last soccer season, players packed snack bags and this volleyball season, the girls did the same, plus a little more. The Dowling Catholic volleyball team held a cancer awareness night on Tuesday, September 12th. The game was against Waukee and raised money for pediatric cancer research.
The volleyball teams put together care and snack packages for families going through chemotherapy experiences and fundraised to draw more awareness toward pediatric cancer. This was all brought on by the fact that two of the girls on the team are cancer survivors.
Tricia Gonyo and Michelle Foth organized the event, after being personally affected by cancer in their homes. Lucy Sandeen, Unravel's Assistant Director of Development, also helped Tricia Gonyo and Michelle Foth plan the night. Ashley Gonyo and Ava Foth are freshmen at Dowling. Ashley was diagnosed with leukemia about 10 years ago and beat it. Ava was diagnosed with osteosarcoma about a year ago and also beat it. To raise support, awareness, and participation for the night, all of the Dowling volleyball teams, Varsity, JV, Sophomore, Freshman A, B, and C, wore "Digging for Gold" T-shirts during the school day.
"Digging for Gold" is in reference to a volleyball dig and the international cancer symbol of a gold ribbon. The teams sold these shirts as well and donated the proceeds to Unravel Pediatric Center. Ashley and Ava also did interviews with WHO News on Tuesday accompanied by senior Mackenzie (Kenzie) Dean. At the match on Tuesday night, there was a silent auction before and during the match, from items that were donated.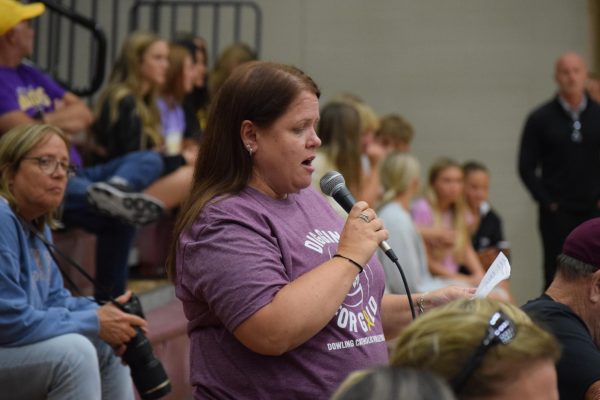 The event raised $7,000 to be donated to Unravel Pediatric Center. Unravel is a nonprofit raising awareness and funding for childhood cancer research. "Don't just be sorry about childhood cancer, be active!" says Tricia Gonyo, quoting Unravel's mantra in her pregame speech.
If you'd like to donate to Unravel, you can:
Venmo @UnravelPC
Paypal @UnravelCancer
Donate online at Unravel Pediatrics
Donate by mail to Unravel Pediatric Cancer, PO Box 2206, Gilroy, CA 95021
Company match – Let your donation-matching employer know how much you donated and double your contribution.
Donate Stock certificates – To donate stock certificates, email [email protected]
Donate Airline Miles – To donate airline miles, email: [email protected]
Donate gift cards – To donate gift cards, email [email protected]