Two hours and forty-nine minutes sitting in a movie theater with dozens of other Taylor Swift fans (Swifties as we call ourselves), I found myself singing along to Taylor Swift performing at Sofi Stadium in Los Angeles, California. During the movie, titled "Taylor Swift: The Eras Tour", Swift travels back 17 years to bring us through her 10 albums.
According to Forbes, The Eras Tour movie made $37.5 million on opening weekend alone, ranking second place among the highest grossing movie in October, under "Joker", which made $39.3 million in 2019 on its first weekend on the big screen. The Swift movie got a 98% Tomato Meter and a 99% Audience Score on Rotten Tomatoes. The Eras Tour film has collected $150 million in domestic receipts and more than $200 million globally. That global haul represents more than 18% of the $1.092 billion total global box office earned since the film was released on Oct. 13, according to data from Comscore.
Swift has released multiple movies including "Speak Now Tour Live" (2010), "Journey to Fearless" (2010), "1989 World Tour Live" (2015), "Reputation Stadium Tour" (2018), "The City of Lover Concert" (2020), "folklore: the long pond studio sessions" (2020), "Ms. American" (2020), and now "The Eras Tour Concert Film" (2023). According to Swift's official website, Swift also has 61 music videos, 13 of which she self-produced. Oh, and let's not forget she also self-produced the current Eras movie!
After having gone to the live Eras Tour concert in Minneapolis on night one last June, being in that theater brought me back to the moment I heard, "It's been a long time coming…", the infamous starting lyric of Swift's three-and-half-hour show. Then seeing her backup dancers come out onto the stage with their fabric pieces, I was right back at U.S. Bank Stadium in Minneapolis on June 23 earlier this year.
Swift's movie started with the Lover Era. She sang the songs: "Miss Americana & The Heartbreak Prince" (shortened), "The Archer", "The Man", "You Need To Calm Down" (shortened), "Lover", and "Cruel Summer", but "The Archer" was sadly cut out of the movie.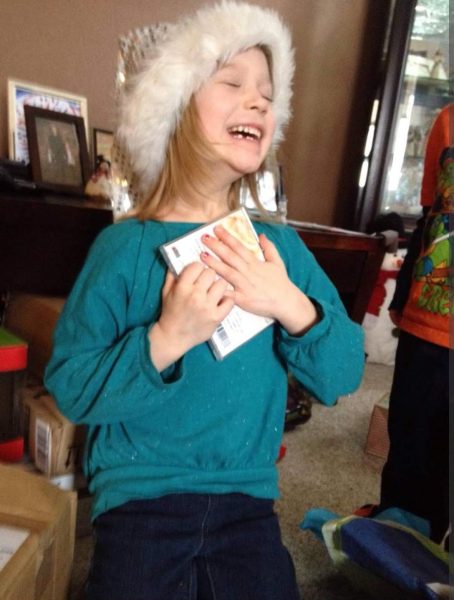 Then Swift moves into her Fearless Era, her album with which I have the deepest connection. I started listening to Taylor Swift when I was quite young and for Christmas in 2013, my parents got me my very own "Fearless" (2008) CD, which I played religiously. I couldn't tell you how many times I listened to "Fearless", "You Belong with Me", "Forever and Always", and "Hey Stephen" on my CD player in the room I shared with my older sister. Even over the summer when I listened to that CD again, I knew where the scratches were and I could feel the songs that I played over and over. So when I was there and I heard the start of "Fearless", I knew that the next few minutes would change my life and it did.  During the movie, Swift sang the songs "Fearless" (shortened), "You Belong With Me" and "Love Story".  Swift even recreated her iconic Fearless dance and the Fearless Heart during the bridge.
Then Swift moved through Evermore, during which she sings "Tis the damn season", "Willow", "Marjorie" (shortened), "Champagne problems", and "Tolerate it". I can say this song made nearly everyone in the stadium cry their eyes out. Also, the acting during "Tolerate It" with backup dancer Raphael Thomas was impeccable.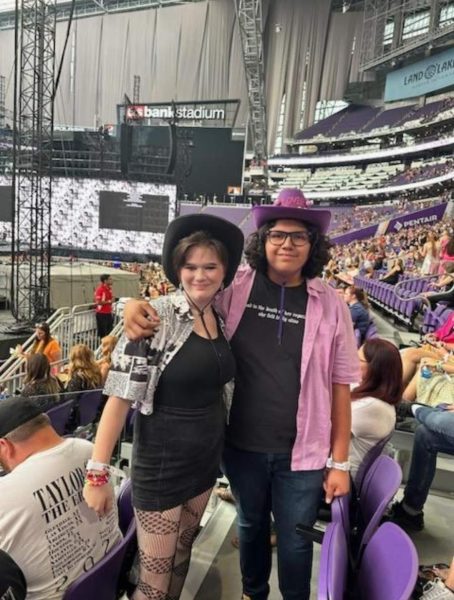 Then Swift moves into Reputation, in the Era she sings "Ready For It?", "Delicate", "Don't Blame Me", and "Look What You Made Me Do". For the Eras Tour liver performance, I went with Jesus Montelongo ('25). Montelongo dressed as the Speak Now era and I dressed as the Reputation Era. Personally, the Reputation Era was one of my favorite Eras in the whole show. Now if you know this era, you know that snakes are a big deal and during the movie Karyn, the snake from the Reputation Stadium Tour (if you know you know), was edited onto the stage, which might have been the coolest thing I have ever seen in a movie. And for some of her live performances, Swift used fire for dramatic effect.
Swift then moves into Speak Now, singing "Enchanted" and "Long Live", which was her shortest era during the America leg of the tour. Then she moves into her Red Era. Swift plays "22", "We Are Never Ever Getting Back Together", "I Knew You Were Trouble", and "All Too Well (10-Minute Version)". For a lot of Swifties, Red was the first album that they ever got into. The first three songs from this era were songs I sang my heart out in my parent's car as a kid and now, as I've gotten older, in my friends' cars. And now that Swift re-released Red (Taylor's Version), listening to the songs that were so important to me as a kid is such a wonderful experience.
Swift's next era is Folklore. She sings "The 1", "Betty", "The Last Great American Dynasty", "August", "Illicit Affairs", "My Tears Ricochet", and "Cardigan". Swift released Folklore during the COVID-19 pandemic and during this era Swift talks about how she stepped out of her normal music. This album also came as a shock to the music community because it came on 11 months after Lover, which drifted off from her usual 2-year release schedule. But when talking about the album and what it means Swift explained, "There's a collection of three songs I refer to as The Teenage Love Triangle. These three songs explore a love triangle from all three people's perspectives at different times in their lives."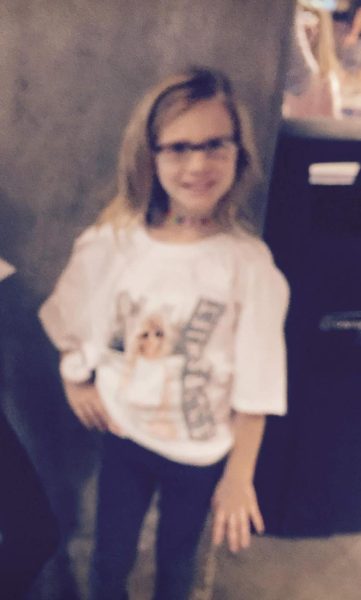 The next era happens to be 1989. She sings "Style", "Blank Space", "Shake it Off", "Wildest Dreams", and "Bad Blood". Swift also re-released her 5th album 1989 (Taylor's Version) on October 26th with five "From The Vault" songs. Swift has produced on each one of her albums. The "From The Vault" songs are ones that didn't quite make the cut the first time around. I went to the 1989 World Tour in Omaha, Nebraska in 2015 with my mom, aunt, and cousin. This honestly was just such a euphoric experience because I saw my favorite artist in concert for the second time and seeing her sing some of the same songs she sang back in 2015 was amazing.
Then Swift moves into her last era of the show, Midnights. She sings many popular songs from her newest album, including: "Lavender Haze", "Anti-Hero", "Midnight Rain", "Vigilante S***", "Bejeweled", "Mastermind", and ending with her signature song "Karma". According to Spotify, on October 21st, 2022, Taylor Swift's Midnights became Spotify's most-streamed album in a single day, and Taylor broke the record for the most-streamed artist in a single day in Spotify history. Also at the end of each show, Swift recognizes each one of her performers, her band members, and her fans.
While I was sitting in the theater, I reflected on all that Swift's music has done for me. For some people, Taylor Swift is just an artist. But, for me Swift has helped me heal after a bad moment, screaming in the car with my friend after a bad breakup or dancing around the kitchen in the refrigerator light (if you know you know). Swift has helped me heal. She has shown growth over the last 17 years of her career and has helped so many people around the globe grow with her. Thank you Taylor for helping me find people I can sing along to your songs with.  Thank you Taylor for helping me realize who I am, who I want to be, and who I want in my life. Everything that went into the movie, and the tour, had a thought behind it. Swift knows how to get someone hooked on her music. Swift and her team, yet again, made an amazing piece of art that will be remembered for decades to come.