Dowling's Fall Choir Concert took place on Monday, October 9th in the Sheslow Auditorium at Drake University. It featured songs from Dowling's jazz choir, the A Capella choir, Dowling Catholic (DC) Singers, a solo quartet, and a final song from the combined choirs. The concert lasted from 7:00 pm to 9:00 pm, and was filled with the beautiful voices of all of Dowling's hard working choirs.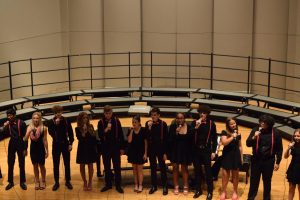 The concert began with a three-piece set from Dowling's jazz choir, the Grace Notes. The set began with the song "You Make Me Feel So Young," an arrangement by Jay Althouse. The choir then moved to a piece titled "If Ever I Would Leave You" featuring solos from Elizabeth James and Lewis Lentsch. For Lentsch, this was a real "full circle moment" as his first ever choir concert started with him listening to a jazz solo. He also expressed how fun of an experience the solo was as he performed it with one of his first friends that he made at Dowling, Elizabeth James. The set concluded with the choir singing "Rock This Town" by Brian Setzer, featuring a guitar solo from senior Jake Leo.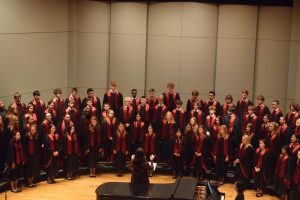 The concert continued with a performance from Dowling's A Capella Choir. Their first song is titled "The Last Rose of Summer," which is an Irish Folk song. They moved onto "Laudamus Te" which has entirely Latin lyrics. The phrase "laudamus te" translates to "we praise you." This is actually a hymn which was used in the context of public rejoicing. The A Capella choir concluded their performance with the traditional spiritual song "Shine on Me."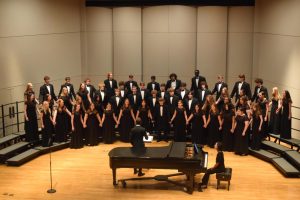 The Dowling Catholic Singers, or the "DC Singers," was the next choir to perform. They began with the song "Ama Namin." Elizabeth James, one of the jazz choir soloists shared that her director, Mr. Quinn Tipping, "asked each student to find their own message to share through this song." James said that she sang this song as "a prayer of thanks for the choir program." James expressed a great deal of gratitude and pride in the choir program at Dowling. She detailed that there is a lot of passion present within the choir students and that it is a great experience to be a part of an "award-winning" program. She describes choir concerts as an experience that is "unlike any other." The next piece in the DC Singer's set is titled "Regina Coeli" by Mozart which was performed by a solo quartet, more information on that later. Finally, the DC Singers concluded their amazing performance with "Through Love to Light'" by Elaine Hagenberg, which is a piece from 1979.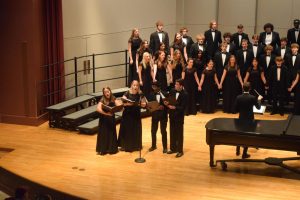 In the midst of the DC Singers performance was a song from a solo quartet titled "Regina Coeli." The quartet is composed of Zoe Ball as a soprano, Grace Hochberger as alto, Jacob Suresh as tenor, and Colin Heaston performing bass. This is the quartet's second year performing together, but the first time they got to "show off [their] work together outside of the audition room," as Zoe Ball puts it. Colin Heaston revealed that DC Singer's set was also the songs for All-State auditions, which the quartet tried out together for on Saturday the 21st. "I loved singing All-State music at our fall concert; it helped increase familiarity with the wonderful repertoire," Jacob Suresh commented. He also said that "singing in a choir and playing a part in something bigger than yourself is such a wonderful experience, and this concert has been yet another example of that to me." The quartet is quite close after two years of singing together. "Working with the quartet has been a special opportunity since it is our second year working together. Presenting as a united front to an audience was amazing, and I am incredibly grateful for the experience," Ball said. Ball was optimistic for the quartet's audition, and that optimism was well placed as they all and eleven other choir members made it into the All-State chorus.
The concert concluded with a performance of the combined choirs of Dowling Catholic with an arrangement of "America the Beautiful" by Alice Jordan.
The Dowling Catholic Choir's Fall Concert was a great experience for those in the choir and outside of it. The choir works hard to create something for an audience to enjoy, but also for themselves. This concert was a true reflection of the dedication of all of Dowling's choir students.