Every track athlete in the state of Iowa knows about the "America's Athletic Classic," or the Drake Relays. High school, collegiate, and professional athletes from all over the state of Iowa and across the country converge to fiercely compete for the ultimate symbol of success; a white flag.
According to Justin Miller, a writer for the Times-Delphic, the Relays made their debut in 1910, with less than 100 athletes in total. All of the competitors were males from high schools and colleges in the Des Moines area. In typical Iowa fashion, a blizzard struck midway through the meet forcing the hundred or so spectators to huddle around bonfires in between the events. 
The next year was much more successful and the Drake Relays began to make a name for itself around the country. 
Miller says by the year 1935, the Blue Oval had made its mark on the world of Track and Field. Jesse Owens, a future Olympian with killer speed, dominated the Relays and in 1959 he was named Athlete of the Half Century. His performances inspired many other great athletes.
One of the athletes who made history at the Drake Relays was Wilma Rudolph. Up to that point, the Drake Relays featured different levels of male athletes only. In 1961, Olympic medalist Rudolph stormed through the finish line of the Blue Oval becoming the first woman to win a race at the Drake Relays.
Michael Johnson, also an Olympic Medalist, competed on the Blue Oval before and after going on to his smashingly successful elite sprinting career.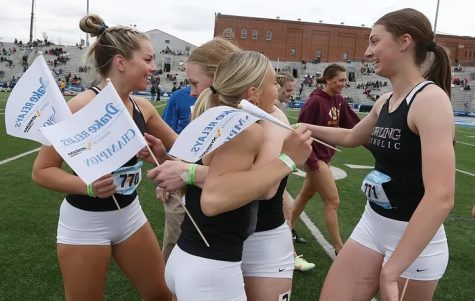 For Iowa high school track athletes, the Drake Relays are a teaser for the State Championship Meet. The Relays is a game of capturing the flag (the winning teams or individuals receive a coveted white flag). 
The Drake Relays have been an incredible showing of track and field athletes for over 100 years. They have seen some of the most iconic races and runners to ever live. Some Iowa track athletes have the immense privilege of competing on the very same track as the legends. 
Everything about the Drake Relays is full of history and hard-working athletes. It is and always has been an honor to compete in the Relays.