Know Where Your Vegetables Come From
"Come get your vegetables" and learn about Gunleseh Dolo
The cafeteria at Dowling Catholic High School may be known for its cookies, but the vegetables should not be overlooked. Cauliflower anyone? As Gunleseh Dolo, or Dolo, as he's known by the other cafeteria staff, says, it's "the best flower in the garden." It's also one of Dolo's favorites, and believe it or not, there was a day when DCHS's kind and optimistic vegetable server did not like any vegetables at all. Dolo grew up in Liberia, a country in West Africa, and explains that he did not have access to a variety of fresh foods, including vegetables. 
It wasn't until Dolo was 32 years old that he came to the U.S. He applied to come through the U.S. Embassy in Liberia three times before he was granted admission on a visiting basis. He left for the U.S. in August of 1989. On December 24th of that year, the first civil war broke out in Liberia. 
The next seven years of fighting began when Charles Taylor led the National Patriotic Front of Liberia into Liberia and attacked the current president's forces. Children were used as soldiers, millions were displaced as refugees in foreign countries, and over 200,000 people died. The war ended when Charles Taylor was elected as president of Liberia after the National Patriotic Front of Liberia overthrew the government. 
Due to the violence and corruption in Liberia, Dolo was granted political asylum and could stay in the U.S. Today, at the age of 66, Dolo is a U.S. citizen. Since coming to the United States, he has never been back to Liberia; however, he still has family members living there. Even though he misses his home country, he stays in contact with his relatives and calls them often. When Dolo originally came to the U.S., he lived in New Jersey, but he's also lived in Pennsylvania (where he met his wife who is also from Liberia), Massachusetts, and North Carolina, before coming to Iowa. 
During high school in Liberia, Dolo helped teach elementary school. After high school he went to nursing school in Liberia and worked as a janitor while attending classes. Dolo's father worked as an herbalist by day and a tribal masked dancer by night. At the time, there was no hospital for children to be circumcised, so his father performed the surgery in African villages. His father's actions inspired Dolo to not only pursue nursing, but to help others in general. 
It's his history in nursing that brought Dolo to Iowa, and eventually to DCHS. While living in North Carolina, Dolo acquired a contract with a nursing home in West Des Moines. The nursing job later fell through, but Dolo knew he still wanted to help people. Guided by his strong faith, Dolo saw DCHS as an opportunity to quite literally serve his new community.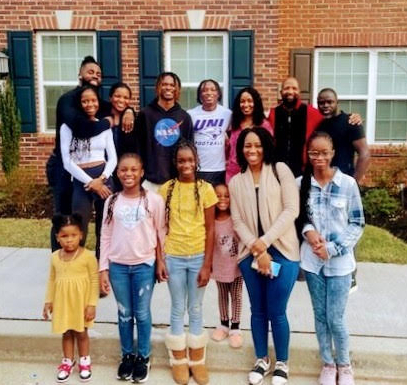 To him, the best part of his job in the cafeteria are the students. "I see my own children in some of the students," Dolo says. In fact, one of those students is actually Dolo's son, Issac Dolo, a junior at DCHS. During the fall, Dolo attends almost every DCHS football game in support of Issac, who plays. During the summers, Dolo visits his other children living in the U.S. This past Christmas, they all got together for a family reunion.
Every night, Dolo has devotion with his family where he reads the Bible and tries to explain the Word of God. He finds great importance in praising and practicing the good of God. Today, Dolo finds angst in the violence of America, especially relating to school shootings. He calls for people to be kind. "It goes a long way." And showing kindness is exactly what Dolo strives to do each day. "Doing something for somebody, even just speaking kind words, that's so good."
The DCHS community has the opportunity to take action and be kind like Dolo by donating to the school's 2023 Lenten Promise. Through the nonprofit, Mary's Meals, DCHS hopes to raise over eight thousand dollars to feed the students of Banjor Islamic Daycare and Elementary School in Liberia, Dolo's home country. Use the link below to contribute today.