SEEKing God
Ever wanted to try to extend your faith? Be closer to God and even acquire a new friend along the way? A handful of girls went to a retreat called SEEK23 in January. I talked to a Dowling Catholic High School senior, Teagan Kavan, and the head mentor for this retreat, Kirby Power. They told some exciting stories about their retreat and what fun things they did there. 
Now you may be asking yourself, what is SEEK23? Kavan answers that for you.
"SEEK is a Catholic conference that occurs every year put on by FOCUS (Fellowship of Catholic University Students) The conference is made for college students across the country from any university. It is week-long and consists of daily mass, a variety of different talks, concerts, prayer, confession and adoration," Kavan says.
SEEK is usually made for college students who need that extra push into a stronger relationship with God but Kavan and some of her friends were asked if they wanted to attend the retreat and they were very glad they went. "SEEK23 was in St. Louis this year, we were there from January 2nd to the 6th. I went with many of my friends such as Kirby (Ms. Power), Julia Sweetman, Olivia Chapman, Taylor Tallman, Nicole Pedersen, Kylie Mcluen and Emelia Pugh. There were also a ton of Dowling Alumni in attendance with their current universities," Kavan mentions.
At SEEK, you can attend any meetings they offer and you can pick and choose which ones you feel that will bring you closer to your relationship with God. "Everyday there was a women's and men's talk, there were impact sessions that you chose to go to and keynote sessions at night that were for everyone to attend together. The impact sessions I chose to attend were, 'When the jersey comes off with Fr. Hilgenbrinck.'"
SEEK tends to bring students together and bring them closer to a relationship with God and Kavan speaks about how SEEK helped her relationship with God strengthen.
"It showed me that I'm not alone in trying to build a relationship with God, and also showed me the impact he has on my life and others."
There are many activities you can do at SEEK with all your friends and Kavan mentions many activities she did at SEEK. "The last night of SEEK there was a Ben Rector concert and it was so much fun. We also got to shop in Mission Way during any free time. In Mission Way there are a bunch of vendors you could shop from, organizations, religious orders, and mission trips that you could learn about. Emelia and I got to listen to a live podcast from our favorite podcast we listen to sometimes at Ut Fidem, Abiding Together."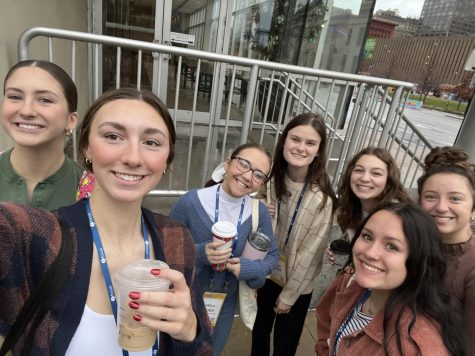 Now, what made Kavan want to go SEEK23? If it was only for college students, what made her decide to join them? Well, Kavan went to SEEK21 when she was a sophomore. It was during COVID-19 so she had to do it at Dowling. 
Kavan says, "SEEK21 was very impactful because it still happened despite of COVID. It was inspiring to see college campuses, churches, and even high schools like Dowling live stream the talks and try to create mini conferences since everyone could not all be together. The weekend was filled with so much growth, friendship, and fun. SEEK21 was a kickstart to dive deeper into my faith and that is why I wanted to go to SEEK23. When Emelia and I heard that it was happening in St. Louis, we immediately wanted to go."
She had a ton of fun at the SEEK23 retreat and talked about the best things she did at the retreat with her friends. "The best part about the trip was the impact sessions and finding fun places to eat for dinner each night. Every day we went to mass with 17,000 people. There were around 500 Priests there!"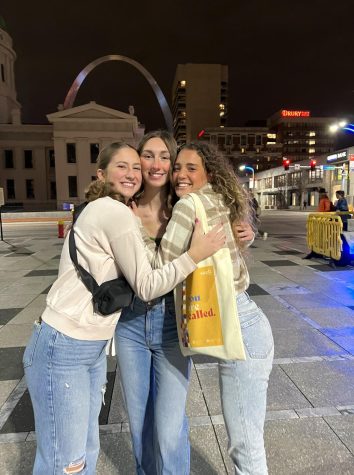 Kavan also talks about her favorite meeting she attended at the SEEK23 retreat.
"My favorite meeting was 'The Power of Forgiveness' with Sr. Miriam James Heidland and Fr. John Burns. It was really eye opening and gave a step by step process on forgiving."
Kavan recommends to everyone to go on SEEK because it is very important for your relationship with God. "It was such a good experience to grow in my relationship with God and in friendship with the girls that went. It was so cool to see so many college students growing in their faith and helped me to see that my faith can continue to grow in college."
Kirby Power, who is the female Ut Fidem coordinator at Dowling Catholic High School, was the mentor who took the girls to the SEEK23 retreat. "I wanted to take girls to SEEK this year because the conference had a large impact on me and my faith at the beginning of college. It was a great way to learn how to take my faith more seriously alongside thousands of other young people," Power says. Power goes on to say that she has been to SEEK many times before and shares how it influences her relationship with God. "This was my fifth time going to a Seek conference! I always find SEEK to be beneficial to my faith life. I think it is a great way to be excited about my faith when it seems mundane at times. It gives me new perspectives on how to be a disciple of Jesus. I think it helped the senior girls understand more how to live their faith in college as well as going forward in their day to day lives."
Power says she is trying to put together another trip for SEEK next year and hoping to find a good group to go with.