Land of Fire and Ice
Fr. Flood and Mr. Wisnieski take Dowling students to Iceland
Fr. Reed Flood first discovered Iceland 4 years ago. He was studying abroad in Rome with some friends, and they missed winter. Therefore, they decided to take a trip to Iceland to see some snow. They stayed at St. Joseph Church, and through this experience, he knew he wanted to come back someday. 
"As a priest, I speak things into existence," says Flood. That is precisely what he did with the Iceland trip. As soon as he arrived at Dowling, he got the word out and, with the help of another student, was able to make it happen. 
The group was in Iceland for one week. Throughout their trip, they saw beautiful sunsets on the top of a mountain, the inside of a dark volcano, and the Blue Lagoon. However, Fr. Flood's favorite part was going to the Carmelite Convent. He was in awe of the voices of the sisters during daily mass.
Each day began with adoration, morning prayer, mass, and breakfast. Then, either Fr. Flood or Mr. Wisnieski would lead a lecture. Shortly after, the group would go out and explore something that related to the lecture. They ended each day with night prayer.
Iceland was first settled by monks in the 300s, but the Catholic population didn't last long. All the Catholic bishops were killed during the reformation. Now, there are only 16 priests in the entire country. "There's a small but strong presence of the Catholic church there," says Flood. 
In the winter, Iceland only has 4 hours of daylight. "It lent itself for lots of reflection," says Flood. The darkness made him want to focus on his relationship with Christ. When asked how this experience affected him spiritually, Fr. Flood replied, "It made me want to go on the inward journey."
Not only did Fr. Flood want this trip for his own preparation, but he also wanted this for Dowling. "I wanted to give Dowling a place where its greatness could continue to grow," says Flood. And, by placing a flag in Iceland, that's what they did. Fr. Flood believes the guys had a good experience as well. "I think all of them left with greater desires than when they first came," says Flood.
Danny Nielsen is one of the students who went on the Iceland trip. Going into the trip, Nielsen wasn't sure what he had signed up for. He was hoping to explore the beautiful country and spend time with the guys. "The Iceland pilgrimage was more amazing than I ever could have expected," says Nielsen.
While they were there, they got to learn about Icelandic culture, celebrate mass each day, and adapt to the absence of daylight. However, having 4 hours of daylight wasn't a problem for Nielsen. "In some ways, it was actually really cool because the sun didn't go that far above the horizon, it made it like a permanent sunrise and sunset while it was in the sky," says Nielsen.
Between the lectures, daily prayer, and conversations with the group, Nielsen grew in his faith. "This experience affected me spiritually by learning new ways to pray and find God's presence," says Nielsen. At night, the group watched fireworks, played ping-pong, and watched movies. 
The coolest thing he saw was the black sand beach in Reynisfjara. This beach is located on the south coast of Iceland and is famous for its rock formations, caves, and mountains. The guys got to enjoy themselves by having a snowball fight. "Having a snowball fight on a beach is something that I never thought that I would do," says Nielsen.
Overall, he had a great experience and is satisfied with how the trip went. "There were so many things that I didn't think of that we got to experience while being there," says Nielsen.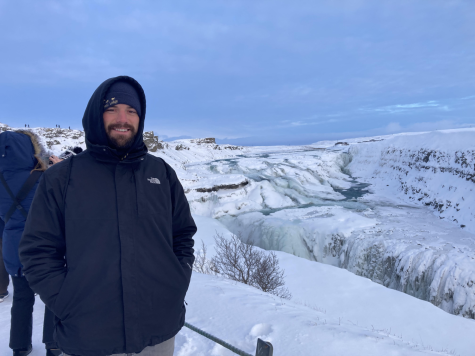 Mr. Wisnieski also had a great experience in Iceland. At first, he was nervous about going up North and only having 4 hours of sunlight. "I was a little bit concerned with what the lack of sunlight was going to do to me mentally," says Wisnieski. However, the darkness allowed time for reflection and prayer. "Sometimes you have to go into that darkness to emerge on the other side," says Wisnieski. 
Mr. Wisnieski's favorite lecture was on darkness because it spoke to him personally. He also enjoyed giving a lecture on desire. He
encouraged the guys to not ignore their desires, but rather, to pay attention to them. "They are fundamentally good even if they might be a little bit twisted and distorted from original sin," says Wisnieski. 
While on the trip, they got to see lots of beautiful things, including waterfalls and hot springs. His favorite part of the trip was a hike up a mountaintop during a snowstorm. "We got to do a lot of really cool sightseeing, but more importantly, commitment to prayer everyday," says Wisnieski.
Throughout the trip, Mr. Wisnieski was able to have one-on-one time with students and develop relationships with them. He believes that they had a good experience. "I could just tell by the way that they were interacting with each other by the way they were engaging with the talks," says Wisnieski. 
Fr. Flood and Mr. Wisnieski are hoping to meet with the group again soon and talk about their next steps. "You have this sort of mountaintop experience…where do you go from here?"