Mr. Dola Osaga has always had an active interest in technology and computers; he started computer science at Africa Nazarene University in Kenya, where he's originally from. The pursuit of better opportunities was what brought him to America. When asked if the move from Kenya to America was difficult, Osaga responds, "it was very difficult, an unexpected change and challenge, but it was an opportunity itself." When he arrived in the U.S., Osaga learned about IT (information technology) and consulting work. "The challenge of IT is that it's always changing; something that happened 2-3 years ago can change, so I have to keep learning and updating my skills." 
Osaga has been in the U.S now for 19 years. Three of those years he's been here at Dowling Catholic. "My favorite thing about my job is getting to interact with staff and students," says Osaga. From fixing Chromebooks to taking care of hardware and IT problems, Osaga is a helpful face around the Dowling community and classrooms. The common problems he encounters are software, WIFI and Chromebook issues. One of the biggest problems with Chromebooks are broken screens and keyboards. "The good thing about Chromebooks is that fixing the keyboards just takes a few minutes."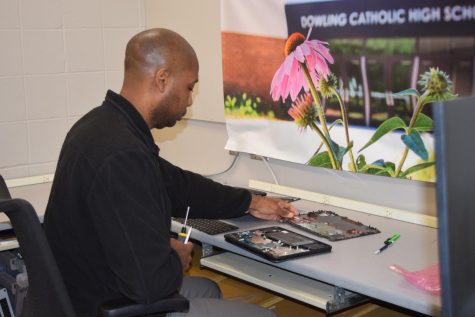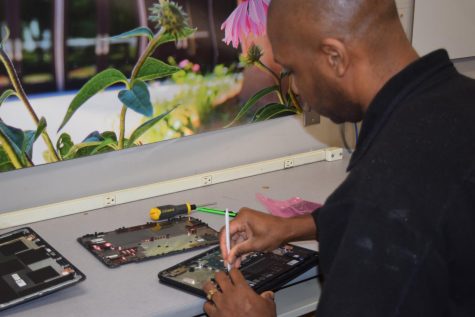 Technology is always evolving. How does Osaga manage to keep up with it? "I have an active interest. I'll try to learn if I encounter something I'm unsure about, so next time I encounter it I can fix it." Osaga is always determined to find a solution to the problem, which is definitely a commendable trait.
At home, Osaga has a house filled with energy! He lives with his wife and five sons ages 9, 6, 3, a baby, and a junior that attends Dowling. Osaga would like to visit his homeland along with his family and see the changes there have been since he was last there.
Dowling is truly lucky to have someone so helpful and determined as Osaga.