Finding where you want to go after you graduate can be overwhelming. While it is an important decision it is important to remember to have faith in yourself. It is your future and you will know what you are meant to do and where you want to be. Starting early can save you a lot, I knew where I wanted to go to college in the spring of my junior year after visiting my top choice. I made my decision extremely early, but this was only possible because of the steps I took before even my junior year.
 My whole life I believed I would be at Iowa State doing veterinary school and now my plan could not look any different. One of the most important things to remember in your college search is that things change: your major, what you want in a college, the college you want to go to, and so much more. My Sophomore year is when I really began my college search, I started with a general idea of what I wanted in a school. The options I had considered were schools in my state like Iowa, Iowa State, and Graceland. During my sophomore year I was convinced I would attend Graceland, the school I would eventually choose was not even on my radar yet. 
Starting early was the best decision I made, it gave me so much time to find somewhere I knew I would be happy. In my junior year, I discovered the college I am now committed to, Central College in Pella, Iowa. I found this school at a college fair and immediately took to its values, traditions, and just the school as a whole. It fits me and my personality extremely well. It's a small town school only forty-five minutes from home, a perfect compromise between staying close while also leaving my hometown. My senior year led me to officially choose this school while weighing it with several other completely different options. The options ranged from the University of Iowa, the University of Tennessee, and even the University of Alabama. What helped me pick my top two was wanting to stay in state after a family member's passing. This decision narrowed my options to the University of Iowa and Central College.
What brought me to my final decision was the difference in sizes of the two, very different, schools. The University of Iowa had a lot to offer socially and had sororities, something I was interested in that Central did not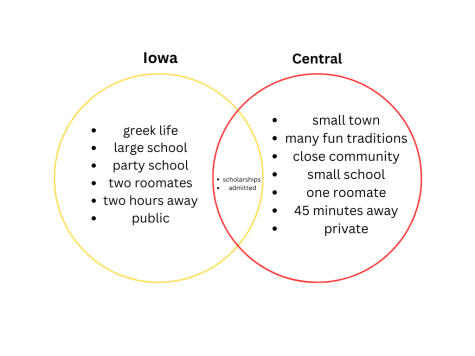 have. But where Iowa fell short for me was their class sizes. I wanted a more personal relationship with my teachers, having a teacher that would know my name and that I would directly interact with was important to me and my style of learning which eventually led me to my choice, Central College. 
I fell in love with Central. I met professors, students, graduates, and other future students along with spending time in Pella where it is located. This decision was clearly what was best for me but then it was time for me to pick a major. A topic I always struggled with, I started by saying I would be a business major focusing on marketing. This major didn't suit me and after exploring other options at a journalism camp called Media Now the summer before my senior year I was sure. This camp gave me the opportunity to look into what a career in journalism and communications fields could look like and once again I fell in love with it. As soon as I left I knew that was the career I wanted to pursue and I chose to major in PR and Communications, something that Central had an amazing program for.
I have officially committed to Central and will be enrolled in the Fall of 2023. Without the steps I took I would have been extremely overwhelmed and I am incredibly thankful for the time I put into finding where I belong.