Judah King – Freshman
Dowling welcomes a few new students to the halls!
When asking Judah King, a new freshman, how the first part of high school has been treating him, he replied, "It's very exciting yet crazy at the same time."
School can be scary at first.  It's a whole new experience. Speaking of new experiences, King is definitely doing something new. 
"Before, I was homeschooled and my school had a total of 200 children. So this is a bit of a new experience for me," said King.
Kingsdon Davis – Freshman
Getting involved is a huge part of Dowling Catholic. 
When asked about involvement, Kingsdon Davis, a new freshman, already has a handle on it. "I am involved in wrestling and the Fall Project," he explained.
Sports and clubs are some of the great activities this high school offers. Another great part of Dowling is forming friendships. When asked what he was most looking forward to his freshman year, Davis responded, "you know, just meeting new people."
With all of the different classes students take here, there are so many opportunities to make new friends!
Cooper Chia – Senior
Cooper Chia is a senior who transferred from Roosevelt High School this year.  He has been adjusting well. 
"These first few weeks have been very good. I'm having lots of fun with my Dowling friends and going to all the social events at Dowling," Chia said.
Football is a huge part of Dowling Catholic, for the players and for the students. When about asked his favorite part of Dowling so far, Cooper replied, "probably the football games."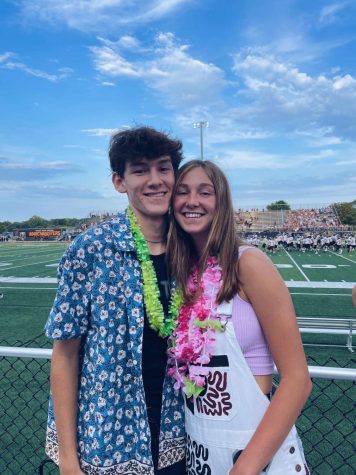 Academics is also important to focus on and Chia is balancing fun and school very well.
"I'm enjoying most of my classes. My favorite is probably strategic reading and I am taking AP Psychology and AP Lang."
Advanced Placement classes are a beneficial opportunity offered at Dowling. Since Chia is taking AP Language and Composition, he is getting college credit for that class; that way doesn't have to take those classes his freshman year of college. Kudos to him for being on top of his school work his first year here at Dowling Catholic.
We welcome these students with open hearts and hope their school year goes well!