Robby Duran. A show stopping junior stars in many musical plays at DCHS and is about to star is another play this fall called "Our Town."
"The play follows the everyday life of Emily Webb, an average girl from an average town. It's not until her death that she realizes how we never truly appreciate the people and world around us while we can, it's always too late," explains Duran.
Duran, who is playing Mr. Webb, the head of the town newspaper, as well as the father of Emily Webb. 
Duran has been acting for a pretty long time and has become more experienced with his acting skills. 
"I have been acting since middle school when I first appeared as Troy in our production of 'High School Musical Jr.' Ever since then, I have found a passion for acting."
Duran has fallen in love with this new production of "Our Town" and gives a detailed 
description of how he feels about the play. "I think the content of the show is extremely relevant and timeless. The ability to make art is the truly amazing part, so no matter what happens on stage, knowing that we made something that mattered is moving. We also have a bunch of very talented people who have worked very hard to make this show possible."
Duran spends a lot of time practicing for his shows and seems to memorize lines very easily since he has had so much experience.
"We practice almost every day after school for about an hour and a half every time. For me personally, memorizing lines has always come easy so I can usually spend maybe 10 minutes a day outside of rehearsal looking at my lines," says Duran. 
Duran has had so much experience while doing many more plays and he gives his all time favorite play he has done.
"'Our Town' is my fifth production but my favorite production has to be the 'Music Man.' The entire cast had it set in our mind that the show was going to be flawless and we all worked very hard to get it there, and on show nights we made magic on that stage. I also loved it because I got to play the antagonist, Mayor Shinn, and my close friend Jake Leo was able to play the protagonist, Harold Hill," says Duran.
The director of this flawless play coming up is Mr. Sheaff who is an acting teacher at DCHS. Duran had amazing things to say about him. 
"I look up to our director Mr. Sheaff. His way of directing is the most efficient way I've ever seen. He allows us actors to create our own version of our characters and all he wants from us is to live in that character. Mr. Sheaff truly is one of the best in this state and I am so grateful to have him as the director of drama at Dowling," says Duran.
The fall play was approximately two hours and fifteen minutes and ran October 27th, 28th, and 29th.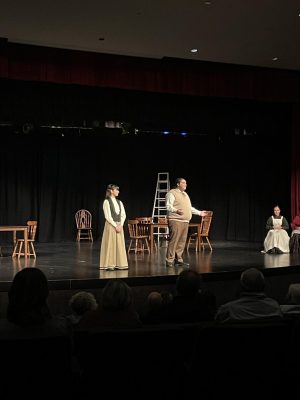 Everyone who attended the fall play would agree it was out of this town!
It wasn't only out of this town, it was out of this world!