Wrestling has been an extremely popular sport for a very long time. Drawings of wrestlers cover cave walls in France dating back 15,000 years ago. However, women haven't always been a part of the picture. As recently as 1990 only 112 girls reportedly participated in high school wrestling nationally. This number continues to take large jumps every year, however, the numbers still are incredibly small. As of 2017, around 15,000 female wrestlers were registered in the United States. As of December 2022, 2,392 of those wrestlers came from Iowa. 
Dowling Catholic has been a part of this growth as they combined with Urbandale High School to create a competitive team on the mats. This is the first year girls' wrestling is a sanctioned high school sport in Iowa. The Maroons and Jayhawks are coached by Michael Moreno, a former wrestler and graduate assistant for Iowa State who has quite a track record of his own. Moreno was the 38th two-time All-American in Iowa State history. Moreno and his teammate, Kyven Gadson, became the first two Cyclones to earn All-American honors for ISU wrestling along with their fathers. Moreno created plenty of history in Ames, but now he looks for a different challenge in the DSM metro. This challenge, however, is different from anything Moreno has dealt with before.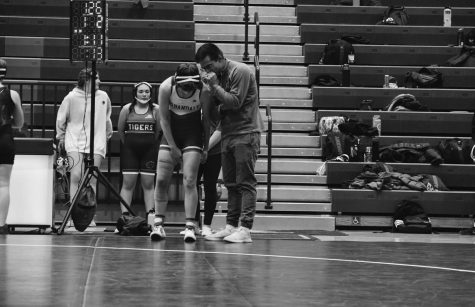 "The benefits for me have been the ability to grow as a coach. I have not run my own program before this season, and before this, I coached college men, rather than high school girls. It showed me that there are innumerable ways and approaches to coaching. Getting them interested in being successful was the first step, which isn't as easy as it sounds in this sport," said Moreno. 
As a former All-American athlete, Moreno certainly knows how to set a goal and stick to it. However, his goal list was concise and simple for his team which is still learning the sport of wrestling. 
"My goals coming into the season were simple: make sure the athletes have fun and make sure they want to wrestle again next year. I think I've achieved that, or at least I like to think so. Moving into our regional tournament on Friday [Jan. 27th], our team goal is obvious: qualify as many wrestlers as possible for the state tournament in Coralville," stated Moreno. 
On January 27th, DCHS junior Ella Anliker wrestled her way to a spot on the mats in Coralville for the State Tournament on February 2-3. Anliker was the only Dowling student to qualify. Anliker is no stranger to the bright lights of sporting, however. She is committed to the University of Northern Iowa to play soccer. Although Anliker is a star athlete, wrestling is something completely new for her. 
"I went out for wrestling because it was something I had never tried before. It was a sport that I could try out for fun and not have any pressure or expectations like I have in soccer or track," said Anliker. 
A huge part of building a successful and sustainable program is the development of high schoolers as not only athletes but people as well. This is much more possible at the high school level as opposed to college. Moreno said, "This year has been wholly different, in that everything is kind of on me and the direction I want us to go, but also that my athletes are of a different vein. The fact that they are girls isn't the difference so much as it is the experience level I'm coaching. The number one, biggest thing that's changed is just my ability to truly change lives. In college wrestling, those kids are who they are. At this level, I can have a serious impact on somebody's self-esteem, work ethic, and overall outlook on life, just by being a diligent figure in their lives. To me, that's why I started coaching in the first place, so maybe this is where I belonged all along."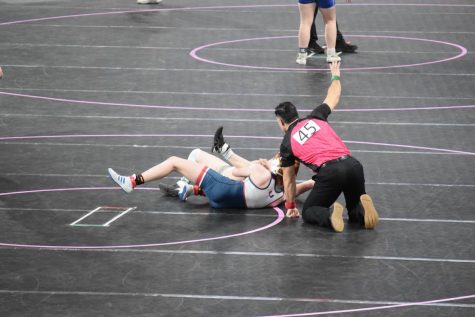 For now, most of the expectations Moreno has are for his athletes to try to enjoy the sport and learn about it, all with the hope they will return for another season, along with more wrestling star hopefuls. However, as the program continues to evolve, Moreno's expectations will evolve with it. 
"The program is going to continue to evolve, as all programs must, in order to be successful. Expectations will rise, and hopefully, we will begin to attract younger girls to try wrestling and get them involved with our youth clubs, as well as the Maroon Mat Club associated with Dowling. Youth programs are the foundation for any HS program's success. As we continue to improve, so too will our presence in the community. I want people in the Metro area to know our program not just for wrestling but for the people of character we produce," said Moreno. 
Moreno has certainly done a great job at producing athletes of great character. Anliker has used the spotlight of being a star soccer player, track athlete, and now wrestler to further use her excellent character for good. Anliker has been vocal on social media about not stereotyping young women, especially athletes, for looks or personality traits. Anliker has been forced to deal with these stereotypes and unfair assumptions for her entire high school career. Her newfound sport of wrestling has provided no exception.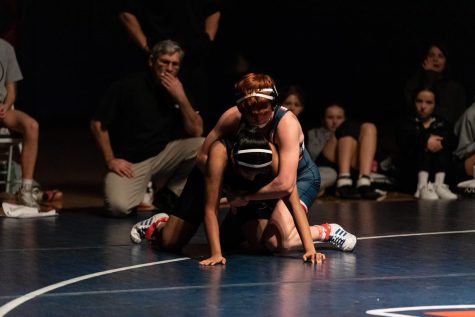 "I would love to be able to just wrestle and love the sport, but as the season has progressed wrestling has only opened my eyes even more to the problem of stereotypes that exist in high school sports. If speaking about these problems broadens my platform, that's great, we need to get conversations going on about this problem, but that was never the original intent [for going out for wrestling]," stated Anliker. 
These issues, however, have not stopped Anliker from enjoying the sport and proudly wearing the Urbandale singlet. 
"My coach, along with the Urbandale boys coach, have welcomed us like family, always making sure we feel welcome into their wrestling room and their community. I love wearing the Urbandale singlet because it represents where I've come from and who has shaped me to become the wrestler I am," said Anliker. 
As wrestlers like Anliker continue to help the sport of girls' wrestling evolve in the state of Iowa, Dowling Catholic will continue to support the progression of this sport all the way. 
Athletic Director and Head Football Coach, Tom Wilson, said, "I think the opportunity for our girls to compete in another sport is fantastic. It is new, they are making history and that is exciting. Way back in the day when I was growing up, volleyball didn't exist at a lot of schools. Look at volleyball now. Girls' wrestling has a chance to grow."
Girls' wrestling truly does have a chance to grow, and The Dowling Catholic Maroons will aim to be a large part of that.