One of the greatest blessings that come along in our lives are the teachers who leave a lasting impact on us. The Diocesan schools in the Des Moines community are especially blessed to have so many teachers who are Dowling alumni. These teachers continue to use their gifts to help the next generation of Dowling students grow. For one diocesan school, two of those teachers, both Dowling alumni, are living out their vocation on a daily basis.
These two teachers are Emily Timmins and Katie Tigges. Timmins and Tigges grew up learning like the students they teach today, in a Catholic school in Des Moines. Timmins attended Holy Trinity and Tigges attended St. Anthony's through 8th grade before starting their 4-year careers at Dowling Catholic High School. Both were very involved in the Dowling community and took full advantage of opportunities presented to them. Timmins loved her time on the Dowling soccer and mock trial teams. She especially enjoyed being a volunteer through Special Olympics, and found a passion for special education. Tigges dabbled in multiple activities throughout her time at DCHS including basketball, soccer, choir, and yearbook. Tigges discovered a love for volunteering as she cherished being involved with Christmas Baskets each year at Dowling, and treasured the values that it instilled in her. 
From a young age, both women knew they loved teaching and hoped that God would call them to a vocation in education. 
"Since I was little I have always wanted to be a teacher, and played teacher at home and things like that. I knew I always wanted to teach second grade because I wanted to do the sacraments and especially First Communion. Now however, I would've done anything, but it just happened, and happened the way I wanted it to." Tigges says. 
Both teachers found their passion at a young age, and their time at Dowling instilled confidence in the paths they were on. They feel that Dowling readied them for the next steps in life in numerous ways. 
"For me personally, I felt that Dowling truly prepared me for college, not only academically, but spiritually." Timmins says.
Timmins graduated from Dowling in 1998 and Tigges graduated two years later in 2000. After Dowling, Timmins went on to study secondary education with specializations in earth science and special education at the University of Nebraska at Omaha. Tigges went on to earn her degree in education at the University of Iowa, and later earned her masters in education at Drake University.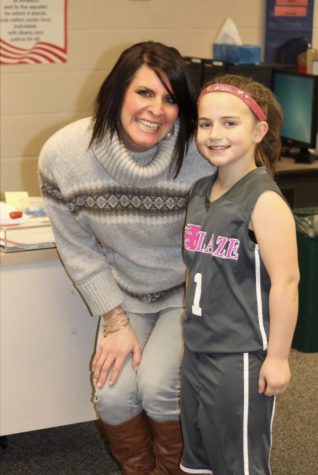 St. Francis of Assisi Catholic School in West Des Moines was the blessed landing spot for Tigges in 2005, where she began teaching second grade. Her dream of second grade was fulfilled and God placed her perfectly. She has taught there for 17 years and counting, and is a staple of the St. Francis community. Any little kid who is approaching second grade hopes to receive her as their teacher, because they've heard how amazing and loving she is towards each and every one of her students.
"I've been at St. Francis for 17 years, so from the beginning, and I love my job. I love teaching and I love St. Francis." Tigges said. 
Timmins joined her at St. Francis in 2016, and has been teaching there for nine years. For her first seven years at SFA, she taught religion to both seventh and eighth grade and has now been teaching science to seventh and eighth grade for the past two years. 
When asked about her time teaching religion, Timmins said, "I loved being able to talk with kids about things that can really make a huge impact spiritually…I do miss that a lot. I miss being able to talk and relate."
Although, teaching science is something she truly enjoys and a love of science was instilled in her by Dowling's own, Peg Conlon.
"Mrs. Conlon was my seventh grade teacher at Holy Trinity and she really instilled in me a love of science. That is when I knew I wanted to teach science," Timmins said.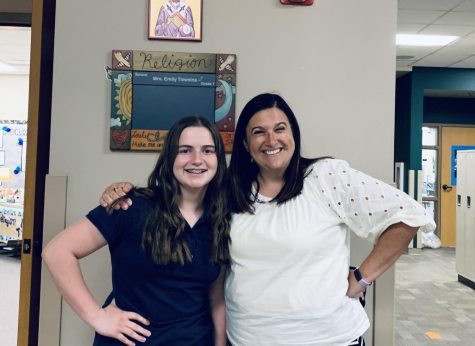 Teaching was always something that both Timmins and Tigges saw in their future, but what's become especially important is the faith aspect that is incorporated into their teaching daily.
"God is incorporated in everything we do. We start with prayer, I start my classes with prayer every single day, intentions, and I love that because not only does it give me the ability to know what kids are praying for, but it also gives me the ability to pray for what they want. That's hands down my favorite part." Timmins said. 
For Tigges, she's seen the faith in action in life's good and bad times. 
"For me personally, being able to go to church, being able to everyday talk about our faith, and talk about things like my dad going through cancer and being able to pray with my students, those types of things, and truly seeing that faith, talking about those "God moments" things like that are what is really important."
Both Timmins and Tigges share a special connection with the majority of their students, which is knowing that they'll be going to the same high school where they once walked the halls. 
"Knowing that the majority of students are going to Dowling, I like to have that connection saying I've been there, I've done that." Timmins said.
"I love that the Diocesan schools feed into Dowling. It's very cool that we have that community around us. Being able to see some of the teachers that I had at Dowling, you know for me it's definitely like giving back in that way." Tigges said. 
For Timmins and Tigges, Dowling started off as a simple step in their life. Although, they never imagined the impact that their time at Dowling would have on their future vocations. Today they are on the flip side of things, teaching the next generation of young students and helping them grow not only academically, but spiritually with God as well. Timmins and Tigges are two of the best people you'll ever meet. They never waiver in helping, loving, and supporting their students each and every day. They are truly sent from God. Dowling is proud to have them as alumni, and proud to have them teaching and leading the next generation of leaders for life, centered on Christ.