Mr. Bill Barrios is a beloved face around the Dowling hallways. He is a custodian at Dowling Catholic as well as a bus driver for school events. It will be his 12th year working here as of November 3rd. 
Barrios is famous for his welcoming smile, kind voice, humble attitude, and admirable personality. "My favorite thing about my job is being a leader for Christ, and in Christ, and also my relationship with the student body and everyone that works here at Dowling Catholic," says Barrios. 
There is no such thing as an average day for Barrios – especially in Iowa. Whether it is snowing, raining, an event coming up, or a bathroom that needs to be cleaned, Barrios is there with a smile. While his job is not easy, Barrios is always seen joyfully working along, which is a truly admirable trait.
Barrios grew up in the heart of San Francisco. In high school, he played soccer and ran cross country. He attended Gonzaga University and the City College of San Francisco, for 2 years each. After that, he attended San Francisco State University, where he got his degree in speech communication. Before he started working here, he worked at the Golden Gate Yacht Club, which is a private club for sailors and yachters. Now he lives in Des Moines, Iowa. 
While he never imagined life would take him here, he says, "God opened up the doors for me to be here one day," crediting Him for how he got to Dowling. He has 7 grandchildren, and several children including one daughter, two step-children, and one son who has passed away.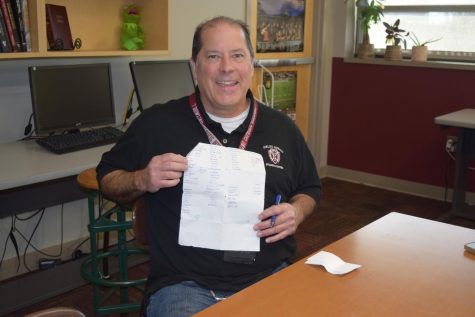 When asked how he remembers so many names of those whom he greets in the hallways, he joyfully revealed his secret: he keeps a list of names in his pocket, categorized by class. He uses this as a way to memorize the names of students he sees in the hallways.
When the paper gets worn out, Barrios transfers all the names to a new sheet of paper. "I'm truly blessed to have that ability to try and put a name with a face, and I'm blessed to be here," says Barrios. 
In his free time, Barrios enjoys volunteering at his parish, Saint Theresa's, where he is an usher, greeter, cross bearer, and a Knight of Columbus. He also enjoys watching sports. His loyalty remains to his California teams, sharing his pleasant memories of going to '49rs games and having season tickets as a child.
Throughout his life, Barrios has grown in his relationship with God. "The most important thing in my life today is my faith and living in Jesus Christ," says Barrios.
Lastly, when asked if there anything else he would like to say, Barrios said, "No, I'm just happy to be here." The perfect way to explain his presence at our school.