No Debating Dowling's Success
Suzanne Bigelow and Collin Comito win big at the Iowa High School Speech Association State Policy Debate Championship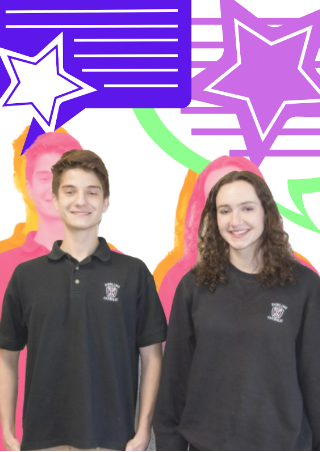 Iowa High School Speech Association (IHSSA) State Policy Debate champions, Suzanne Bigelow and Collin Comito, are a partnership that'd be sure to make Elle Woods or Atticus Finch proud. Suzanne's cool and personable demeanor balances against Collin's stoic and focused personality, resulting in a successful dynamic. 
Suzanne and Collin's partnership began last year as sophomores, a season they ended as state runner-ups. As they reflect on the results of last year, they agree that it drove them to work harder this season. This year, the official title of the case they worked on was, "Resolved: The United States Federal Government Should Substantially Increase Its Security Cooperation with the North Atlantic Treaty Organization in One or More of the Following Areas: Artificial Intelligence, Biotechnology, Cybersecurity." To most, this thirty-word mouthful would be enough to deter, or at least discourage. Suzanne agrees with most. She would rather debate on issues such as criminal justice. However, Collin is quick to provide the counter. He appreciates the relevance of the topic, especially considering the recent state of Europe and NATO. 
Suzanne and Collin's preparation this year included intensive collaboration with one other; other policy students Liam Ekhardt, Jack McGuire, and Betzy Sandoval; and Mr. Simon Sheaff. It was thanks to Betzy and Jack's success that the semi-final round of the IHSSA State Debate Tournament was closed out. In other words, because two DCHS teams were set to compete against each other, the school's coach decided which partners advanced. Since Suzanne and Collin had specifically prepared to compete against the Iowa City West partners they'd meet in the final, they advanced to the last, two-hour long round. 
Each round begins with a coin flip, in which the winning team decides what side of the argument to present first (affirmative or negative). Suzanne and Collin explained that presenting the affirmative first can be a big advantage because it's hard to break a new major argument. As the coin took its final revolution, panic arose in Suzanne and Collin. They had lost the coin toss. They would have to provide the rebuttal for an argument that they had never heard before. Fortunately, the panic was short lived as Iowa City West decided to take the negative side, allowing Suzanne and Collin to execute their preferred strategy.
Suzanne and Collin had won against one member of the Iowa City West partnership before. In fact, it was in the semi-final round of the state tournament last year. This experience undoubtedly boosted their confidence, but the partnership was not without worry. Suzanne even found herself thinking that "there would always be next year," as a way to find solace amidst the trials of the round. No consolation would be needed, however. Suzanne and Collin would be deemed champions, and they are both proud of their victory.
As a whole, the DCHS debate team placed second in state at the IHSSA Tournament. This feat is especially impressive considering that there are currently no seniors on the team. The future of the team certainly looks encouraging, and as Collin points out, "with more experience, it gets easier." As for the future of Collin and Suzanne, they both plan to pursue law school. Until then, they'll continue to attend smaller debate tournaments, help the entire DCHS Speech and Debate team compete to defend the state champion title in March, and hopefully travel to Arizona for the national tournament in June. They also agree that the debate skills they hone during Speech and Debate have translated to everyday life in class discussions, communication skills, knowledge on world issues, and the ability to articulate their thoughts, especially when hearing different opinions.
That's not to say that a debate mindset comes without tribulation. Sometimes, and to the dismay of their parents, Suzanne and Collin can find their debate skills taking over at family dinner. No matter, for in the meantime, they'll look forward to analyzing the various intricacies of economic inequality, the National High School Policy Debate topic for the 2023-2024 year, one sure to come with more success for the promising debate partners.